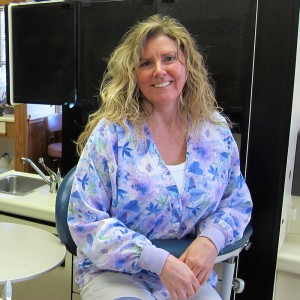 Cindy – Dental Assistant
Cindy worked with Dr. Hickey at our practice for 21 years, and she has been working with Dr. Brandon R. Magill since 2013. Her favorite parts of working at our office are our wonderful patients, our great team, and the interesting variety of her job. Having worked at our office for over 20 years, Cindy has an extensive knowledge of each patient and their needs, and she has a passion for her job and for helping people every day. Cindy regularly attends continuing education with Dr. Brandon R. Magill so she stays current on the latest tools and techniques in dentistry. She has attended numerous advanced trainings on color staining of dental restorations, allowing her to properly mimic our patients' natural tooth color, seamlessly blending them into the natural appearance of their smiles.
Cindy and her family reside in Manlius, New York and the surrounding areas. Away from work, she enjoys being on the lake, jet-skiing in the summer, and snowmobiling in the winter.