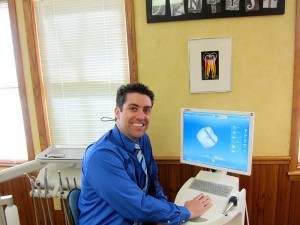 Brandon R. Magill, DMD
Dr. Brandon Magill attended the University of Arizona in Tucson, Arizona with studies in chemistry and microbiology. He then went on to Temple University School of Dentistry, where he earned his Doctor of Dental Medicine degree over ten years ago. Dr. Magill completed a one-year, post-doctoral AEGD residency through the US Navy Bureau of Surgery and Medicine at Camp Lejeune, North Carolina. For four years after dental school, he worked as a dentist in the US Navy Dental Corps and was deployed with the US Marine Corps to the Al Anbar region of Iraq for eight months to serve the dental needs of the joint armed forces there.
Dr. Magill has been practicing in upstate New York since 2008, in areas from Albany to Syracuse to Watertown, New York. He purchased this practice in 2013 from Kevin Hickey, DDS, who had run the practice at this location since the late '80s until his retirement in 2013. Dr. Magill looks forward to serving patients at this location for many years to come. He regularly attends classes both at the Spear Institute in Scottsdale, Arizona and at the New Jersey Health Professionals Development Institute near New York City, New York to stay abreast of the latest developments in dental technology, techniques, and products. Dr. Magill is a member of the Syracuse CERECDocs Study Club, and he volunteers as a supervising dentist for the SUNY Canton Dental Hygiene Program in Rome, New York. His highest goal is to provide treatment that is both comfortable and personalized and to leverage the most current dental technologies available to achieve that. He focuses on utilizing CEREC® one-visit crown technology to give patients same-day repair of dental problems.
Dr. Magill is married; his wife, Jill, is a second grade school teacher. They have a son, Aiden, and a dog named Max.